India Sourcing Trip Itinerary
The Itinerary of India Sourcing Trip March 2023 is designed to provide you with the information, connections and resources you need to succeed with made-in-India products.
Take a look at the activities we have planned for you during the Trip.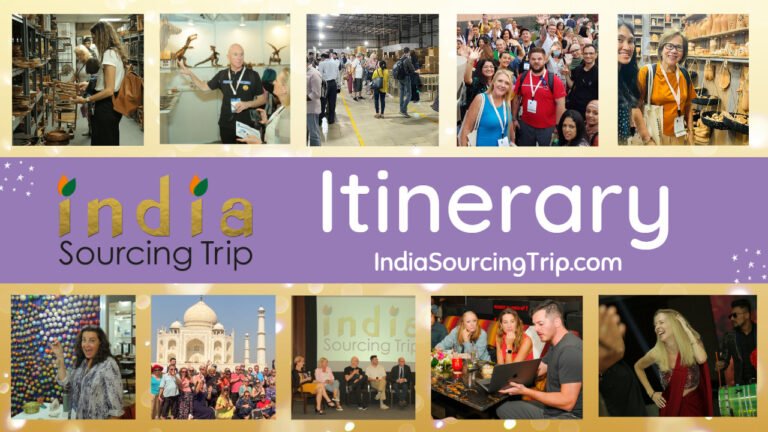 Arrival day 🛬 You will be greeted at the airport by our friendly staff and provided with a SIM card. Then check-in to the hotel, relax, acclimatise and meet with other attendees 💐
Full-day India Sourcing Conference – This is where you up your sourcing game, leapfrog your competition, and be way ahead of those who are not on the Trip. You will also meet with vetted service providers and build long-lasting relationships that will get you priority treatment and better terms 🤝 
Welcome dinner & Bollywood Night – A night to remember! Dress up in Indian attire and experience a dance and music show like no other! 💃🕺
Trade show – Spend the day meeting suppliers and seeing products. All our Invited Experts will be available to you for guidance at any time 🙌🏻
Evening Mastermind with Experts – This is your chance to ask any questions you might have and share notes 📝
Networking drinks & dinner – Unwind with a glass of cold beer, wine or coffee. You will need this after a hectic day!🍷🍺
Trade show – Another day filling your diary with unique product ideas 💡 Walk-around the fair with an Expert to learn their product selection process 📦
Evening Mastermind with Experts – So much to discuss, so much to learn. All you need is one nugget to get unstuck and to propel your business forward 🚀
Networking drinks & dinner – Did someone say wine? 🍾 And who can resist the glorious spread of scrumptious food 😋
Rest & recreation day or visit trade show – If by this time, you feel overwhelmed by the fast pace, this is your day to catch your breath 🧘‍♀️ If you're still energised, go back to the trade show 
Visit to Deepalaya school (optional) – Meet with the kids we're sponsoring at this non-profit organization. It's an emotional experience for many 🥹
Sightseeing & shopping (optional) – If shopping and sightseeing are your things, join us for a visit to the local markets 🎁
Networking dinner – Chat and share ideas over dinner in a hip Delhi restaurant 🍗🍧
Trade show – Ok, we're all recharged and ready to attack the trade show again. Let's go! 🏃‍♀️
Drinks & dinner in pub with music and dancing – Let your hair down and dance the night away. Music not your thing? No worries – have a quiet dinner instead 🍽
Day trip to Taj Mahal – There's only one way to describe Taj Mahal – breathtaking! You have to see it to believe it. No wonder this is one of the 7 Wonders of the World. Unmissable 💜
Farewell drinks & dinner – Is it time to leave already? There won't be a dry eye in the room 😢 
End of India Sourcing Trip 🛫 Fly out or leave for optional Moradabad Factory Tours
Top retailers and brands from around the world have been importing products from Moradabad for decades, and you have the opportunity to go there! This is an add-on to the main Trip.
Departure for Moradabad – Settle down for a bus ride to Moradabad, the city of metal and wooden products 🚌
Factory tours – This is where the rubber meets the road. See how products are made, talk to factory owners & artisans, and if you're adventurous enough, try making a product yourself! 🏭
Networking dinner – Relax over dinner, or chill by the pool 🏊
Factory tours all day – More factory visits of different products. It's fascinating to see the amount of work that goes into making a single item
Networking dinner – Don't forget to get some desserts after dinner!
Factory tour – One last factory to visit. This could be your dream supplier
Lunch and departure by road for Delhi Airport – Alright, that's the end of the Trip folks
By the end of India Sourcing trip, you will feel extremely inspired, you will have a notebook (or 2) full of product ideas, you will have great relationships with suppliers, you will have made long-lasting friendships with other sellers, and you will be ready to take your business to the next level
Come join us for THE TRIP OF A LIFETIME! 
PS: We have a special offer for business partners who want to travel together and share a room. You can even bring your spouse / friend / partner for only the cultural & fun aspects of the Trip!  We can also customize the Trip for you as per your needs. 
Email us at info@indiasourcingtrip.com for the details and let's chat!
India Sourcing Trip is a Sourcing, Learning and Cultural guided sourcing tour to India.